Transformative Abstract Realms
Hi, I'm Varvara Skibina, and my artistic journey has taken me from my birthplace in Moscow to the captivating city of Prague (Czech Republic), where I've been residing since 2012. My art is an intricate tapestry woven from the threads of my life experiences, and I'd love to share it with you.
I am thoroughly driven by an unwavering passion for exploring the nuances of life and the world around us through my art. My abstract paintings are a reflection of my deep fascination with surfaces and textures. When you explore my work, you'll also discover elements inspired by botanical illustration and the graceful strokes of Eastern calligraphy. Each piece I create is a canvas of my diverse experiences, from the bustling streets of Moscow to the enchanting alleys of Prague.
My artistic pursuits go beyond the studio. I'm an active participant in the Czech Republic's vibrant art scene. You'll find me at exhibitions, working on commissions, and creating and managing an art podcast, Varrika Art Talk. I'm not just limited to the visual arts; I also contribute my creativity to the world of music, designing visuals for album covers and lending my voice to melodies.
I express my artistic vision using a wide range of mediums, including watercolors, oils, acrylics, and mixed media. It's like playing the Glass Bead Game, as I revel in the interconnectedness of life's various facets, creating what I like to call "managed chaos" that resonates with the senses.
I invite you to step into my world, where every brushstroke carries a story, and each artwork invites you to explore the beauty that surrounds us. Join me on this artistic journey, and let my art become a part of your story.
Explore my portfolio, and together, we can uncover the depths of creativity that transcend boundaries, speak to the heart, and inspire the soul.
Notable Achievements and Awards
(for the information on my current shows and the full list of my activities please check my events page)
I had the privilege of contributing artworks for the Met.a.phorum participatory theater project in collaboration with Rehearsal for Reality z.s. and Heinrich Boll Stiftung Prague. This project took place at Studio ALTA, Prague, on 14 May 2022, and later at NaZemi Brno on 23 June 2022.
In May to August 2022, I hosted a personal exhibition titled "Borderlines" at Podnik café bar, Peroutková 5, Brno, offering a unique glimpse into my abstract world.
From December 2022 my art has been gracing the personal exhibition "I FELL IT IN MY FINGERS" at Strada del víno in Prague, an immersive experience of my abstract expressions.
The year 2023 brought several personal exhibitions, including "EVERY.DAY" at Zrno Zrnko in Prague, spanning four venues from January to March, showcasing the depth and breadth of my abstract creations.
My art also played a role in a motivation wall at KKafe in Prague, on display from April to September 2023, offering visual inspiration to all who encountered it.
Currently, I'm hosting 3 personal exhibitions in Prague. One of them is at Strada del víno as mentioned above, the second one is at Kavárna Pražírna, and the third one has been freshly installed at Periferie cafe.
Consistent Recognition
In addition to my exhibitions, I'm honored to regularly receive awards in online art contests. These acknowledgments highlight the resonance of my abstract creations with audiences worldwide, reaffirming my dedication to the art form and my continuous exploration of new dimensions in abstract expression. 
Balancing Art and Life
In addition to my artistic pursuits, I embrace a multitude of roles in life. I am a devoted mother, a loving wife, a cherished daughter, and a proud granddaughter. I also take on the responsibilities of a daughter-in-law, adding to the tapestry of my life's experiences.
Beyond my identity as an artist, I am a linguist and a scientist, delving into the complexities of language and the intricacies of research. And to further enrich this multifaceted life, I am employed as a sound engineer specializing in vinyl, a role that demands both precision and creativity.
Juggling these diverse roles can be demanding, but it fuels my creative spirit. It's through these intricate interconnections and responsibilities that I find profound inspiration, allowing me to create art that reflects the richness of life's experiences.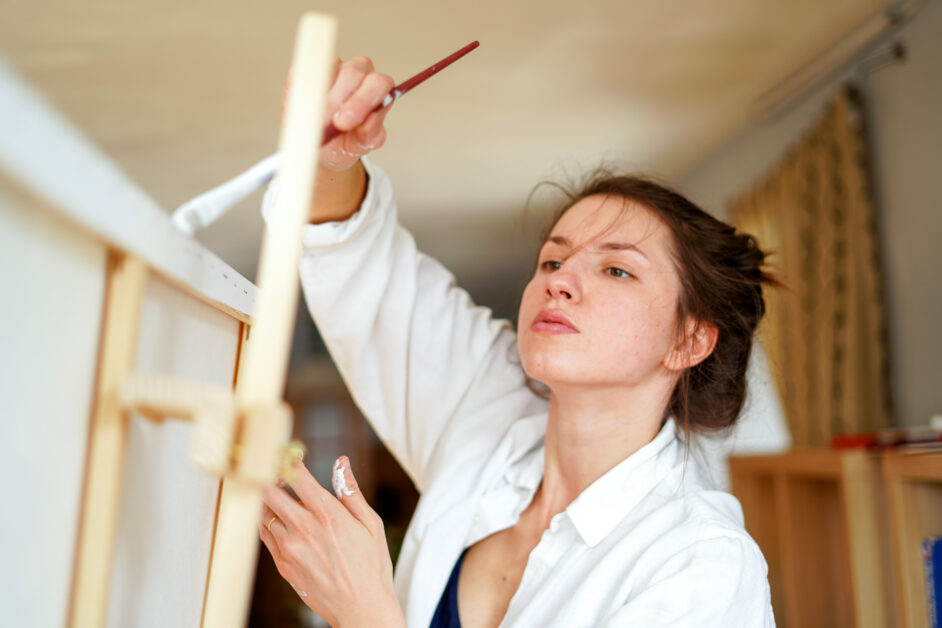 Feel free to check out my Varrika Art Talk podcast: